Who is online?
In total there are
4
users online :: 0 Registered, 0 Hidden and 4 Guests
None
Most users ever online was
24
on 23/4/2017, 18:11
Discord Button
Discord
Text is temporary until cornix designs a pretty button.
Name:
Mitsuo Shimura
Age:
18
Group:
Survey Corps.
Rank:
Soldier
Squad Tactician - Mitsuo has been known for his quick wits and his advanced planning, therefor when it comes to attack formations Mitsuo is normally the one to stratergise them.
Part-time Shop Owner - Mistuo sometimes works in his dad's shop; either working the till or tinkering in the back workshop. Mitsuo has taken up doing this as he will inherit the shop and also it helps him think. The Shimura Workshop is Mitsuo's safe-haven and will be where one could find him if he seems emotionally unstable.
Appearance:
Mitsuo stands at 5ft 11in and weighs 10st 10lbs. He has sea-foam coloured eyes and long, dark brown haired which is plaited into a ponytail that comes down to between his shoulder blades. He dresses formally in Victorian steam-punk style. He wears a white dress shirt which sleeves' are rolled up with a black tie under a black waistcoat with black dress pants, he keeps the collar of his shirt up. He has a slim, thin figure but is quite muscular. He has a strong, masculine jaw line. He has semi-tanned, natural white skin. His hair is usually shaggy but kept in his plaited ponytail. He doesn't tend to wear baggy clothes as he says they get in the way. He takes European looks from his mother, Cheryl Shimura, and takes his personality and mindset from his Asian father, Arata Shimura. He usually dresses in black, grey and white as they are his favorite shades (as Mitsuo tends to clarify that they are not colours).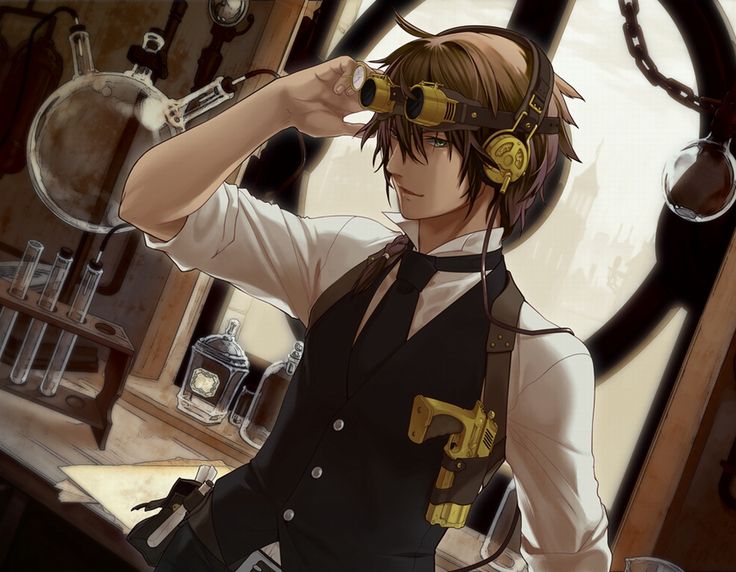 Identity:
Mitsuo likes to plan everything in advance. He tends to think up multiple possible solutions of how things can happen if certain parts of his plans act out correctly. Mitsuo does this to try and be prepared for any sudden changes in one of his plans, however he does not need to do this as he is also quick witted and can think of solutions on the spot. Mitsuo has relied on his instincts a few times in previous experience however they are not always reliable as sometimes they put him at a disadvantage rather than at an advantage.
Under serious stress an pressure, Mitsuo can lose his track of mind or become emotionally unstable meaning he could make rash and irrational decisions that could put him and his squad in grave danger.
Mitsuo does not have complete control over his emotions. This is why he can become "emotionally unstable". Although he may seem to have everything under control, inside his emotions work double time, meaning he can easily become in a certain way, such as sad or angry.
The best way to explain this would be on a scale of 1 to 10. I'll take anger for an example. If someone got insulted and that insult made them feel a 5 of how angry they were on the scale, then Mitsuo would be a 10. If someone got punched and that made them feel a 2, then Mitsuo would be a 4.
Mitsuo always becomes more emotional then what he should actually be. This is a disability he has and is aware of. If Mitsuo starts to feel like he's becoming unstable he would probably just get up and leave or say he is going to leave for a while and then will go to his father's shop. If Mitsuo is on duty or on a mission, however, he will probably find the nearest cover and rest for a short period of time. He does this so he doesn't act recklessly because of his controlling emotions.
Preferences:
Likes:  
- Engineering and tinkering: It has always been a hobby of his since he was a child as he was inspired by his father who was a mechanical genius.
- Art: As he has Akathisia he one day taught himself to draw as he felt like he had to do something. Now every time he sees something interesting he likes to draw it so he'll never forget.
- Music: He was taught by his mother to play the piano and (acoustic) guitar. Ever since then he has enjoyed writing lyrics and music as well as playing them. Music also calms him down and helps him think.
Dislikes:
- Loud places: He doesn't like loud places as he finds it harder to think. Also he assumes that loud places mean that there's a lot of people he doesn't know and he doesn't like being around strangers much.
- Crowds: He doesn't like being around strangers, as said, because he feels like he can not be himself. He also has trust issues and is claustrophobic making him dislike crowds even more.
- Doing nothing: Mitsuo has Akathisia, meaning he doesn't like doing nothing. Sometimes it gets the better of him so he can not stay idle. He always must be doing something otherwise he gets bored and sitting still drives him crazy.
Fears:
- The Dark: He feels unsafe in the dark as he feels like he is either being watched or going to be murdered.
- Heights: He doesn't trust heights as he is paranoid that he might slip and fall to his death.
- Death: Everyone is afraid of death so you can't really blame him.
Goal(s):
- Protection: He feels like he needs to protect everyone, even if he doesn't like socializing with them. Killing Titans also makes him feel safer as he's technically saving himself. He wants to make the area the people live in, including him, safe.
- Experience: He always likes trying new things so he is always looking for things to do that have not been done before or are rarely done.
- Alive: Mitsuo wants to live his life to all its fullness meaning he doesn't not want to live a short life. He does not plan on letting the Titans kill him while he's out on missions and also tries to avoid places that have the potential to increase the chances of him being murdered. Mitsuo wants to die from a natural cause such as age or a heart attack.
Backstory:
Mitsuo had a pampered upbringing. His parents had told him about his disabilities when he was at a young age where he could understand. His parents had people teach him different things like martial arts, art, weaponry such as swordsmanship, maths, English and Japanese just so he could be home-schooled to make sure everything was suited to him so that his emotions would not become out of control. His mother taught him how to read and write music while his father taught him how to engineer and tinker with mechanics.
They had a healthy lifestyle from his father's job as a mechanic for the Survey Corps. His father told him a lot about the Survey Corps and the 3DMG which made him believe that they could be as free as they wanted to. That is when joining the Survey Corps became his new dream and so he always trained his various fighting skills he learnt so that he could be prepared to join them. He promised himself that when he does join the Survey Corps he will discover how to make his own 3DMG and improve it to make him known for his engineering skills like his dad.
His mother told him about the Titans and how they disrespect the human race and cause the people to live in fear which made him want to be rid of the Titans so that people must not live in fear and to make the world safer and more like a dream paradise. Now that he is eighteen and has joined the Survey Corps, he will complete his promise and fulfill his dreams. He has high hopes in climbing to the highest ranks so he can be finally be respected like the way he has respected others. He has set himself on his own journey and his determination never falters. He will try and try again until he manages to complete his goals: Erase the Titans from the face of the Earth, upgrade and improve the Survey Corps gear to become the best engineer ever and be able to live freely without fear.
Stats: Strength:
7
Agility:
7
Intellect:
8
Extra:
His father, Arata, is one of the most well known engineers inside the wall as he works for the Survey Corps. This means that Mitsuo has a legacy to fulfill and his dad has high hopes of him taking over the family shop "Shimura Works" and improving it. Mitsuo is a little popular because of his father and is called "Shimura's Son" by a few who know him and his family.



Posts

: 81


Join date

: 2017-04-04


Location

: My home.

Character sheet
Strength: 7
Agility: 7
Intellect: 8


APPROVED.

Character made perfectly well, and fun to think that he is, stat-wise, almost identical to my Auth (one point difference).
Admin




Posts

: 16


Join date

: 2017-03-14



---
Permissions in this forum:
You
cannot
reply to topics in this forum