Who is online?
In total there are
8
users online :: 0 Registered, 0 Hidden and 8 Guests
None
Most users ever online was
78
on 10/8/2017, 03:59
Name: Safer Sephiroth
Age: 19
Group: Survey Corps
Rank/Profession: Soldier
Appearance: He's white skinned being at a height of 5'10 and weighing roughly 135 pounds. He has an average slim body build. Safer has a sharp, defined jawline, and has brown hair and red eyes. The picture below is an image of him.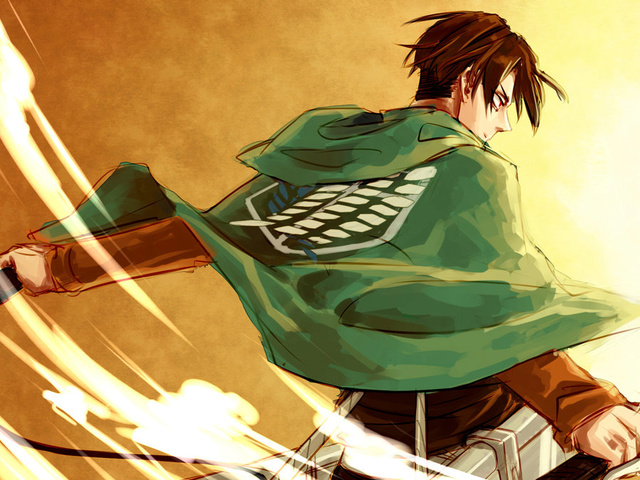 Identity: Safer has strong morals while at the same time being quick witted in situations. He's always calm and collected when fighting Titans. He's excellent at using the gear for fighting titans in combat but is too brave for his own good. He'll rarely take reckless risks when battling against the Titans. Being at the top of his class in training, it's obvious that being in the Survey Corps was his destiny all along. Safer sometimes keeps to himself about how he lost his mother to a Titan. This event had left him mentally scarred for his life so he seeks revenge on their kind. He's often willing to help others in need of assistance in combat. Growing up he's gained an intelligent mindset, one that makes great decisions.
His passion for ending the Titans reign only grows more after killing one. His mother was part of a good portion of his life making him food and having him go out to play with the others. She always told him that he would be a honored person in the end. All of these past memories with her get caught into his mind when sometimes seeing a Titan, but he ignores it because staying unfocused in combat for a while can get you killed. His built up rage for revenge lets him be excel in fighting and using the 3DMG gear.
Safer likes to be in charge because of his excellent choice-making so he wishes to one day be a Survey Corps squad commander. He wants to become the best soldier who ever lived or just even be honored. He'll do anything he can for humanity, even it meant risking it all on one Titan. Safer's well-balanced mindset to keep cool when thinking about his mother is what makes him unique, most people would just freeze in a single spot or lash out because of their emotions.
Preferences:
-Likes: Honor, Value and Respect
-Dislikes: Rudeness, Cocky People and Titans
-Fears: His father dying
-Goal(s): His ultimate goal in life is to kill every single Titan that exists to get revenge on his mother's behalf.
Backstory: Tee Sephiroth is his dad and Jessica Sephiroth is his mother. He's the only child however. His father and mother were always a big part of his life being there for him all the way. Safer had a great child hood, being very popular with the other kids. He has a university/college education graduating right before joining the Survey Corps. He joined the Military because he saw it fit in getting his revenge on the Titans. He's gotten the name "Safer" because his parents thought he would always be the safest in the family because of his unique blood type that excels in combat. His father had predicted he would go into the Military as soon he was of age. Tee was actually a drill sergeant in the Military until he retired at the age of 50. Since then, he has constantly been in contact with Safer giving him tips here and there. His mother had been there for him too always encouraging him to make new friends and be the best person he can be. Safer has a soft spot for his mother because they have so many precious memories together.
Six months pass by as he becomes sixteen, at this point Safer had already saw his mother, Jessica get eaten by a Titan and starts to seek revenge secretly. He begins to read books from the library on their kind trying to figure them out. While reading books, he also got personally trained by his father teaching him how to use the Survey Corps gear and swords early on so when the time comes, he'll be an expert at it. Three years pass by as he finally becomes a Survey Corp in the Military.
By this time, Safer had plenty of friends who were also interested in the same thing.
He's gotten quite the reputation from being the top of his class in Military training. He was always socializing with others. Other soldiers and trainees began to notice his motivation and braveness early on. His friends somewhat see him as odd because he's so motivated to kill Titans. His father had stopped training Safer by the time he got into the Military knowing they'd take it from there. Safer deep down knew that the Survey Corps was the only career that fit his life correctly so it's all he thought about.
Safer has currently two friends that are in the Survey Corps with him: Lucifer Kalzago and Selina. They're both around the same age as he is but they vary in skill. Safer spends quite some time with them both around the villages and Survey Corps training. He's known them his whole life by the time they were little kids. However, Safer's goal to get revenge is much different then their goals. This doesn't affect how things play out but they both keep a close eye on what he does because he is a risk to his own life.
Stats:
Strength: 5
Agility: 14
Intellect: 5
Extra: I'm not very sure if I'm going against site rules when I put his stats that high, but I see that it fits his persona and lore. I think having him this strong will be beneficial to Official Site Lore/Story line as he's a very interesting character. However, it's fine if we need to fix his stats a bit.
Last edited by Safer Sephiroth on 22/4/2017, 20:02; edited 5 times in total



Posts

: 46


Join date

: 2017-04-22

Character sheet
Strength: 5
Agility: 14
Intellect: 5


(... I just wrote a huge lot that got deleted... I am so sorry if I seem too brief or annoyed, it's not fun. Now I get poor, poor Alan...)

So, first of all, I like the idea! My own Auth has his heritage in the military and all, so I kind of am with you on this one.


Then: you actually don't meet the word count requirements for Identity (you need about double) and Backstory (You need about half again). I'm going to feel really bad every time I say this, but... rules are rules. Sorry.

To help out though, ideas that I think you could write on (if you need the help):

Identity:
How does him being 'mentally scarred' affect him in day-to-day life? And, given that you focus so much on his titan-killing aspect, does he even have a day-to-day life that does not involve somehow killing titans? Or is he quite obsessed with them and their death at this point?

By 'being too brave', is he also reckless (in the sense that he attacks when he should really just flee)?

How self-secluded is he? As in, does he talk his thoughts and values openly with people, or does he tend to keep it all for himself? Where does he draw the line? How easily does he make friends, and what are the qualities he looks for in friends?


Backstory:

First of all, a thing I've only recently corrected about my own character: you spoke a lot of his father, but what about the mother? Who was she? Was she any important (socially)? And, for Safer, if his father was a mentor, what was his mother?

How did his education go? And, more importantly, what about the time when he learned about titans on his own? Is/Was he obsessed with them and their destruction?

He made friends, but once again, is he one for socializing? Or are his friends simply close comrades in battle? Among them, is he the only one dead-set on titan-killing, or are they the same? He is admired by others, but are they somewhat seeing him as weird for being too motivated (including out of jealousy)? Did this affect him in any way (if it happened)?



Then, for the stats:

You have 40. That's roughly double the starting amount. Problem is, it does not really make sense for him to have that at the age and rank he is. He's freshly out of trainee camp, he didn't yet have time to do any practice on real titans.
If anything, really, our stats would be roughly fit for, say, Levi in the anime. But Levi is a highly experienced soldier that had seen more combat than anyone else. I mean, keep in mind that 18 Agi means that he's almost at the highest possible.

The problem is not the stats themselves, but that they don't make sense for his age and level of training. I think having around 25 or 26 points to spend is all right, but 40 are just too much.

(For example, Cora Wolf, who literally started training non-stop since she was 4 years old, only has 25 stat points)

I hope you understand.



(Also, you have quite a few grammar mistakes, but I'll fix them up for you when I approve it)



Posts

: 199


Join date

: 2017-04-02

Character sheet
Strength: 17
Agility: 3
Intellect: 2





Posts

: 46


Join date

: 2017-04-22

Character sheet
Strength: 5
Agility: 14
Intellect: 5





Posts

: 199


Join date

: 2017-04-02

Character sheet
Strength: 17
Agility: 3
Intellect: 2


---
Permissions in this forum:
You
cannot
reply to topics in this forum